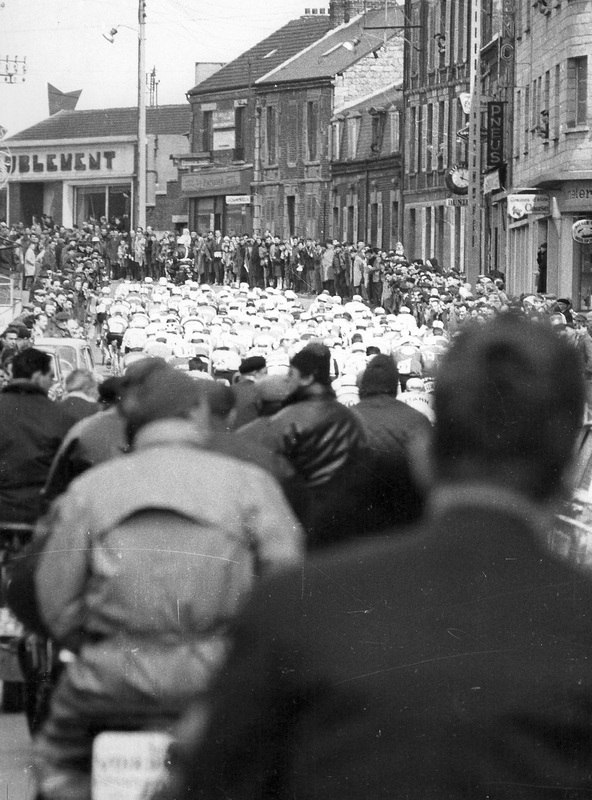 This picture of a bike race in the 1960's, (which is also in the photo section of this website), has no caption as yet because I don't remember precisely where I took it and it will take a bit of research to find out, which I have not had time for lately.
I have dozens and dozens of contact sheets from those years, most of them not clearly filed. My filing system was (is) somewhat primitive.
The photo may be from Paris-Roubaix, the most famous and bizarre of the one-day races, and the only one I ever covered from a motorcycle. The photo makes it look like I am in the mass of suiveurs on motorcycles, and not in a voiture de presse which would have been further back, and which is what I always rode in summer when I went with the Tour.
Roubaix has a terrible reputation. It is known as "the hell of the north." It breaks up bikes and also the men pedaling them and I wanted to see it up close. My New York Times editor, Jim Roach, mostly let me do anything I wanted, but not this time. He forbade the motorcycle categorically. Too dangerous, he said.
I hired it anyway, didn't tell him, and rode pillion for 200 kilometers, the last 50 of them over the narrow back roads of Belgium. Ruined old cobblestone roads, the stones heaved by the frosts of a century or two, me hanging on with my knees while trying to shoot in every direction. Bikes bouncing all over the place. Some motorcycles too, though not mine. The hell of the north, all right. A very exciting day.
Jim Roach never knew, though he might have guessed something from the photos.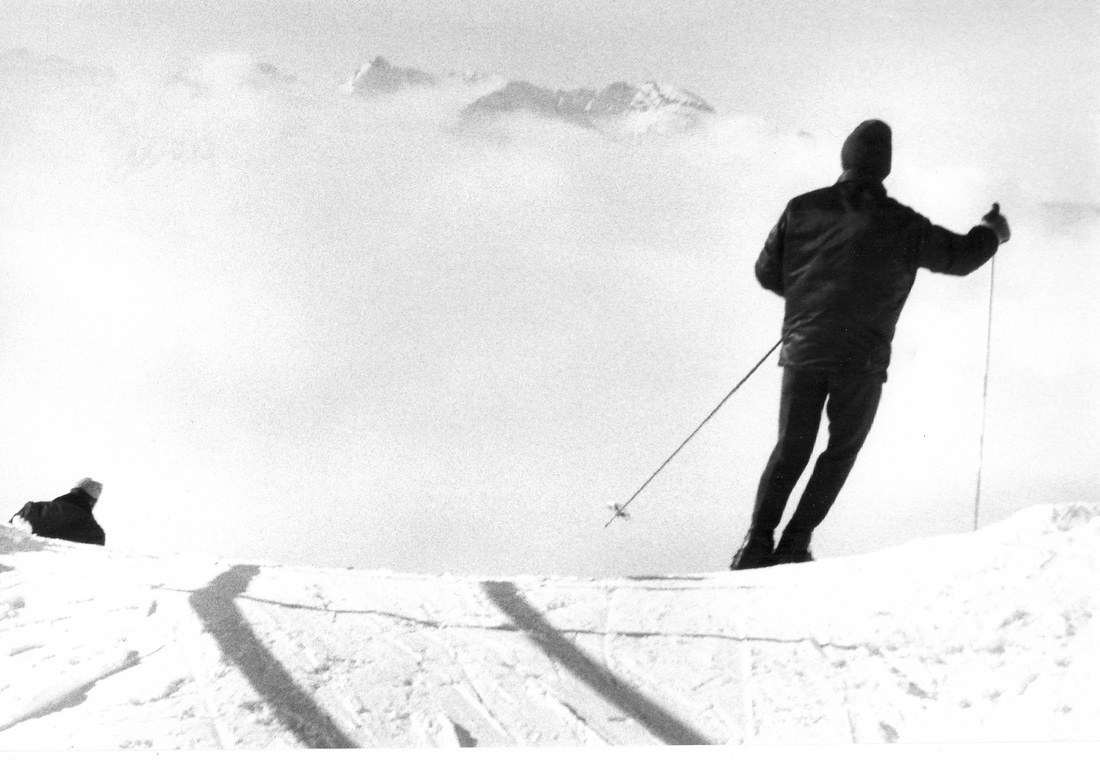 This snow scene shot (from the 60's) is also of unknown provenance. I will have to fish through contact sheets looking for the two photos if I hope to identify them further.
Both the bike scene and the snow came out of envelopes of prints I had kept. When I came upon the snow scene I thought it was perhaps stunning. One is never sure at first and it never appeared anywhere. Nor did the bike picture, although they must have seemed good enough all those years ago for me to have printed them up.
And so I am left wondering what do you think of them? What does anyone think of them? What is the effect of the whole photo section? Yes it pleases me, but does it please anybody else, or is it rather like inviting people in to watch the slides you just took of your children and your dog?