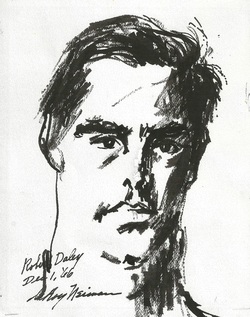 Robert Daley
(born 1930 in New York City), is an American novelist and journalist . He is the author of 31 books: 18 fiction, 12 non fiction, and most recently a small volume of poetry. Five of his books have been adapted for film. A sixth, The Cruel Sport, was sold to MGM and was the basis for the film Grand Prix.
Daley graduated from Fordham University in 1951 and served in the Air Force during the Korean War, then spent six seasons as publicity director for the New York Football Giants listening, observing, remembering. He became very close to some of the players. Those were the days of Frank Gifford, Kyle Rote, Charlie Conerly and Sam Huff. Of Vince Lombardi. Of pro football exploding into the game it is now. Afterwards he wrote a novel called
Only a Game
based on that team, those years.
Sports Illustra
ted rated it one of the top sports books of all time.
After the Giants h
e worked six years on the foreign staff of
The New York Times
, living in Paris but covering stories in sixteen countries in all, if you count places like Monaco and Andorra. He was sent to North Africa for a war, and to Ireland for a horse race, reported from Lisbon on the Atlantic to Stalingrad (now Volgograd) on the edge of Asia.
In 1971–72 he served as Deputy Commissioner of the New York Police Department a period that turned out to be one of the most tumultuous in NYPD history: two Mafia Dons were gunned down, the Pierre Hotel was looted in the city's biggest jewel heist ever, the Knapp Commission investigation into police corruption caused tremendous upheaval in the department and the city, four police officers were shot in the back as they walked on patrol and their guns stolen, and two others were machine-gunned in their car, all by assailants calling themselves the Black Liberation Army. Daley, present at the top level of headquarters, recounted these events and others in the nonfiction book
Target Blue
. He said later that when he agreed to take the job, he never expected events like this, or an experience like this, that it was more than he had bargained for.
A number of novels set against an NYPD headquarters background followed. His award-winning 1978 nonfiction work
Prince of the City
was hailed by
The New York Times Book Review
: "The policeman as flawed hero, a recurrent and enormously popular figure in contemporary writing, has never been done better." Daley's books, which have been translated into 16 languages, include
Year of the Dragon
,
Tainted Evidence
(filmed as
Night Falls on Manhattan
), and
Prince of the City
.
Most of his books grew out of immersing himself deeply in people and subjects that fascinated him, from Grand Prix racing to opera to bullfights to treasure diving—and of course the NYPD.
The parents of three grown daughters, he and his French-born wife divide their time between homes in Bronxville, New York and Nice, France.
---